About Dr. Steph
Dr. Stephanie Royston was born and raised on the North Shore of Vancouver. Steph has worked in Kamloops at Valleyview Veterinary Clinic, in Chase at Chase Veterinary Clinic and in Lake Country at TriLake Animal Hospital. Steph lives in Lumby with her 5 cats: Oreo, Koala, Runty, Arrow and Ninjie.
Education:
Graduated from St. George's University Veterinary School in Grenada.
Performed clinical year at Murdoch University Veterinary School in Perth, Australia.
Finished M.Sc. in Conservation Genetics from Memorial University of Newfoundland.
Completed B.Sc. in Cell Biology & Genetics from UBC.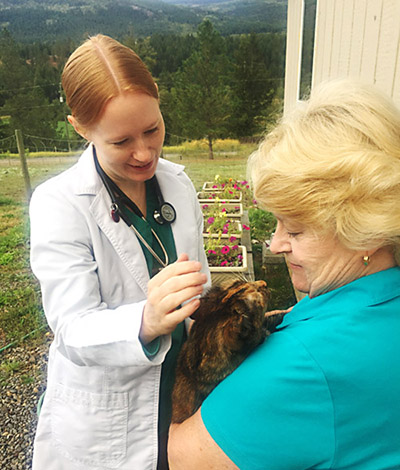 Ninjie
I found her when I went on a critical distress call in Chase expecting to have to euthanize her but despite having a badly broken leg she was a sweet, feisty 8 week old kitten. I had to amputate her left hind leg as it was healing very badly but she gets around really well and is the alpha of the team bossing the others around.
Arrow & Runty
They are sisters and very close. I was fostering 9 kittens after someone couldn't care for them and threatened to dump them outside in December in Kamloops. Their siblings were spayed and neutered before them and they ended up staying with me. They are very shy but sweet girls.
Koala
Koala in her Angel costume.
She was dumped at the SPCA in Kamloops as a 2 week old kitten and she was so badly dehydrated and sick that the there was discussion of euthanizing here but luckily a tech got an IV catheter in and she spent the night in my bathtub on fluids. She had a few seizures and is a very 'special' cat but loves her life and her family.
Oreo
Oreo in his Halloween pumpkin outfit.
He was found in a box as a kitten in Grenada and ended up with me after nobody else would take him. He is very happy to be a Canadian cat now as he had asthma in Grenada but not here. He is the only boy cat and the oldest and he likes to think he is in charge.
This is probably the best vet in BC, she is so good with our animals. Our dog Cici loves her to death… our dog is more excited to see her than any of our family members…. I would recommend her to everyone who has any animal…. NO stress on the animals or the humans…
Daryl Riva Campion
Steph is the best. We met Steph when she worked in Lake Country. We were very impressed with her. She is very compassionate and so good with our pets. Recently Steph came to our home to help us say good bye to Lucky. This made it so much better for all of us. We could even see the love she had for our little old man. Thank you for being the best vet we have ever met.
Carey Earl
Dr. Royston is the first vet in 13years that our dog has not been afraid of! She is so compassionate, professional and practical. I highly recommend Dr. Royston.
Sherry Lukey
Dr. Stephanie Royston
 Hours of Operation
Monday to Friday 
9:00am to 5:00pm
Evenings & Weekends 
Call for appointment.
Please leave a message, I may be unable to answer your call due to being out of cell phone service, driving or at a house call.
Dr. Royston works flexible hours. Please phone 250-558-6700, text or email for a consultation. Please leave a message, as she may be unable to answer your call due to being out of cell phone service, driving or at a house call.
Emergencies
In case of emergencies, please call the Creekside Animal Clinic at 250-549-3533. Dr. Royston does not deal with emergencies that require access to a hospital during after-hours.